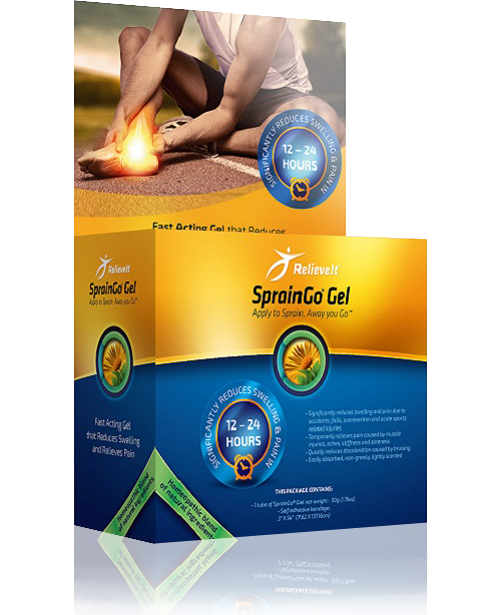 The sprain remedy found in the RelieveIt SprainGo Gel was rediscovered after an overnight recovery of an acute ankle sprain. In 2013, the son of our founder was invited to participate in a 3-day professional soccer tryout. On day one of the tryout he suffered an acute ankle injury. Following the injury, he was unable to walk so he was taken back to the hotel where the players were staying to apply ice and elevate the ankle. The founder and two of his brothers were in attendance at the tryout. After the injury, one of the brothers remembered their family remedy which was used for over 100 years to treat acute injuries. This family remedy which was unused for decades was first discovered by Mother Skinner, their grandmother and community healer in the late 1800's in Trinidad. That evening, the brothers prepared the remedy, picked up an ace bandage and returned to the hotel where the founder's son was staying. The remedy was pasted onto a white cloth (poultice), applied to the injured ankle and wrapped with the ace bandage. The next morning around 7am the founder received a call from his son saying, "Dad, I'm ready to go!, most of the pain and swelling is gone so I'm returning to the pitch to complete the tryout". The founder had the sprain remedy modernized and further tested after witnessing what would best be described as a modern day miracle. The original sprain remedy can be found in the RelieveIt SprainGo Gel today.
A proprietary blend that combines natural ingredients such as Arnica montana (known for diminishing bruises and inflammation reduction), Juniper berry (for its stimulating effects), wintergreen (known in herbal medicine as a tonic, stimulant and astringent), eucalyptus (reduces inflammation), Caribbean pine resin and other ingredients.
Reduced 100% of my swelling to my sprained ankle. I have very sensitive skin and experienced absolutely no skin irritation. I really like that I was able to cut to size and the application was super easy with no mess what so ever.
Frequently asked questions (FAQ's):
Shake Well Before Use:
With natural products like RelieveIt the essential oils tend to separate from the plant ingredients after the product has been sitting. For best use, turn the cap towards the floor and Shake Well to allow the oils and plant ingredients to activate.
Is the RelieveIt – SprainGo Gel safe for children?
Yes, the gel is safe for children over 2 years of age. For children 2 years or younger, parents should ask a doctor.
How often should the RelieveIt – SprainGo Gel be applied?
The gel should be applied every 4-6 hours or as needed.
When shouldn't I use the RelieveIt – SprainGo Gel? Are there special instructions I should follow?
Do not apply to open wounds or to damaged or very sensitive skin . Do not use if you are allergic to Arnica Montana or to any of this product's Inactive Ingredients
Stop use and ask a doctor if:
Excessive redness or irritation is present
Condition worsens or persists for more than 3 days.
Keep out of reach of children. If swallowed, get medical help or contact a Poison Control Center right away.
If pregnant or breast-feeding, ask a health professional before use.